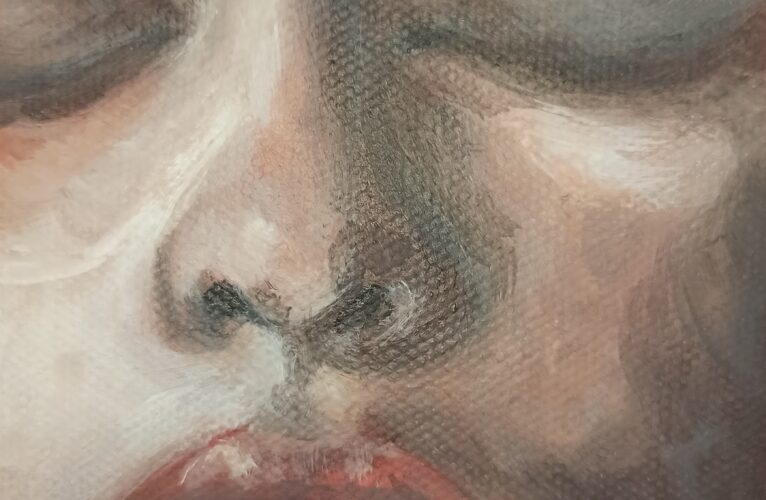 Since I began to paint consistently, on an almost daily basis, I decided to study the Old Masters from a technical point of view, and besides the grisaille technique (see this previous article) I was attracted by the use of a particular palette which seemed to be extremely useful to mix fleshtones and create harmonious portraits.
A Swedish painter, Anders Zorn, introduced an essential but innovative limited palette that is nowadays known as Zorn palette.
It consists of just 4 colors being yellow ochre, ivory black, vermilion and titanium white. Cadmium red light is commonly used in place of vermilion by modern day artists.
Whilst this may seem like an extremely limited range of colors, Zorn demonstrated through his paintings just what is possible with such a limited palette.
Here is a self-portrait of Zorn with his palette.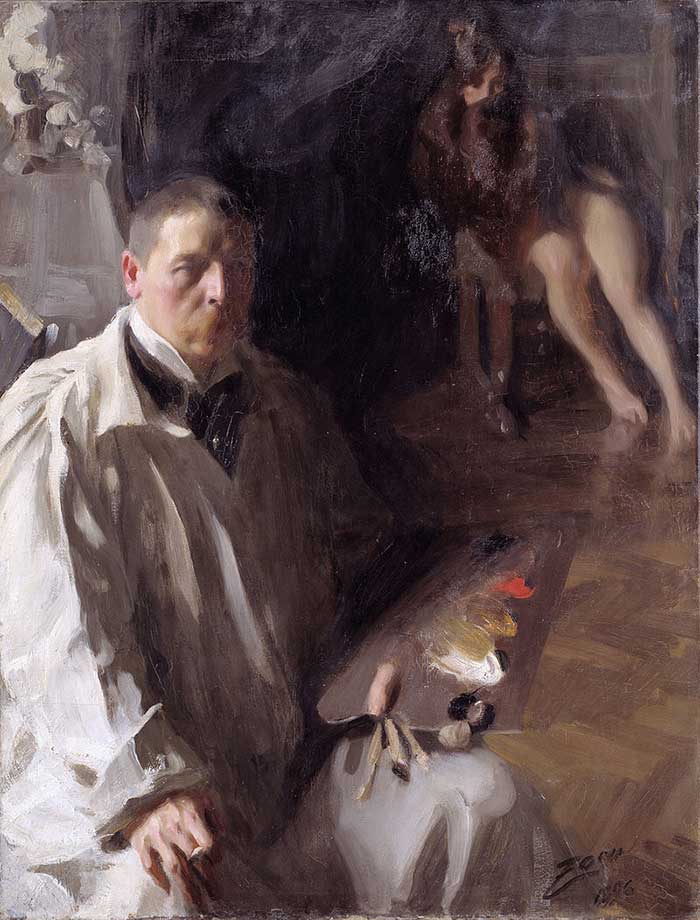 I embraced the challenge to try this limited palette and explore all the possible combinations of colours.
I find definitely boring doing color swatches but in this case it was essential, since it was the only way to understand how these 4 colours create an unbelievable large number of tones, and especially skin tones. I prefer muted tints and shades, and I usually avoid too saturated colours. The Zorn palette offers a wide gamut of 'pinks', warm, cold, greyish, brownish.
My experiments are being really useful to improve my knowledge of color theory, and I am finishing a small series of portraits, entirely painted through the Zorn palette, which will be available on the auction that will be held in the 'Soul & Energy Art Group' on Facebook.
Join the group in order to subscribe to the 'Magic Moments' auction,and let beautiful art inspire your December and lead you to a joyful, colourful Christmas time!
Next week I'll give a preview of all the pieces giving all the details of size, support and the range of prices.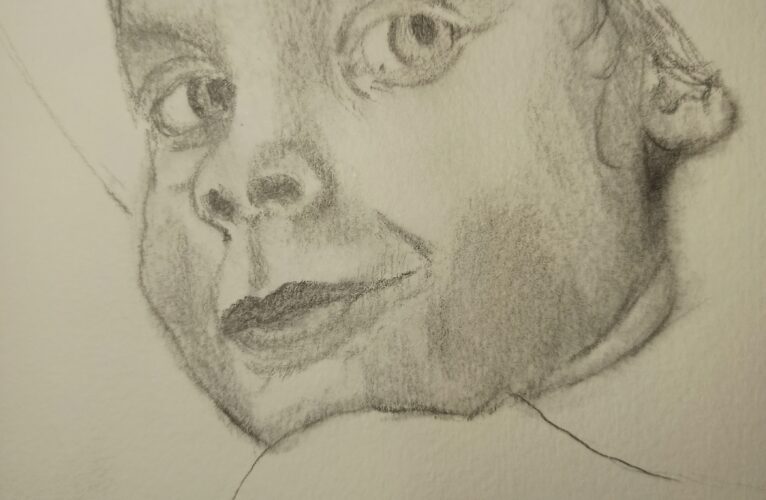 Are you unpacking all your Christmas decorations?
Are you already looking for a special, unexpected and original present for your sister, mother, or best friend?
Do you think that perfumes, bottles of wine and foulards are the most boring presents ever (as I do, LOL)?
You would love to imprint on paper you best smile during your last trip in Italy, or the first kiss with your husband, because keeping our beloved ones in front of our eyes gives us strenght and joy.
You may want a portrait of your children to be hanged in your office, in order to have a tender visual connection with them even when you are working.
You are looking for a unique and affordable idea to celebrate your essence of amazing human being.
I do not wear a red dress like Santa Claus, but I am definitely a creative soul and in this special time of the year I want to offer to my subscribers, fans and collectors the opportunity of having one of my art pieces at a special price.
From Monday 30 November to Sunday 20 December you will be able to commission me a drawing in pencils or buy one of my available drawings for 99 euros! First come, first served!
Each day I will post on my social media accounts a pencil sketch on paper, whose dimensions are in average 15 cms by 20 cms.
The drawings can be yours at the special price of 99 euros (notice that shipping costs are extra and will be determined on the basis of your address).
As an alternative, if you prefer to have your own subject portrayed, just message me or contact me via my website (here) to schedule a commission consultation with a resulting sketch at the same price!
I'm so excited about Christmas time!
Embrace the joy of Christmas with me!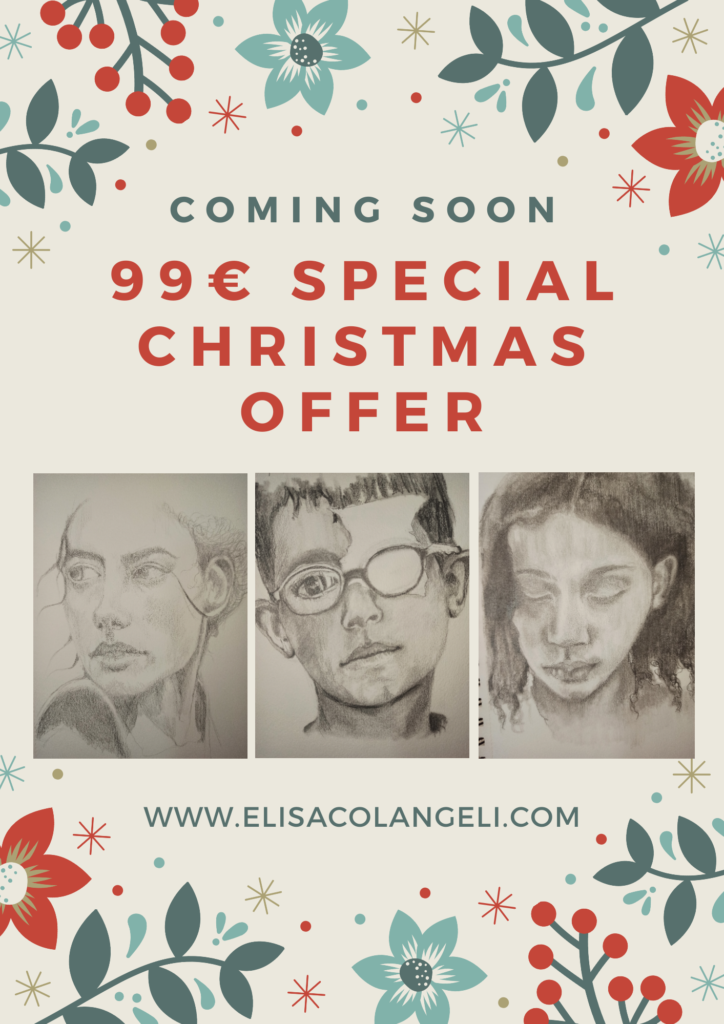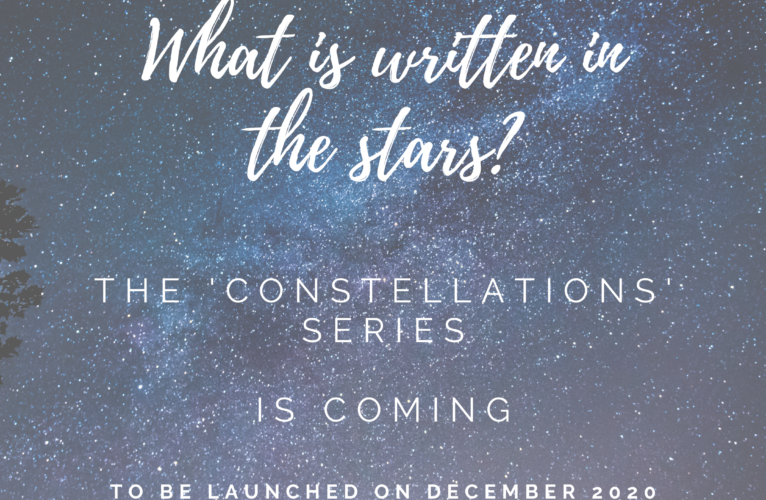 Are you enchanted by the deepest blue, starry skies at night?
Do you imagine to travel through space and time?
Do you like identifying the stars and you find yourself captured by the moonlight?

I believe we are made of stardust, as we are a part of the universe and a step of the creation.
Stars to sail the stormy seas safely.
Falling stars to make a wish.
I don't read horoscopes, and I don't want to know my future, but I love Greek mythology and I've always loved Astronomy. I wonder what is beyond the dark of the night, and when I think that the light of a star that I see in a moment was emitted maybe one year ago, or even more, I feel speechless.
We are so fragile.
We stand in our little, busy daily life in front of an apparently moveless universe. But it expands, it grows and new stars are born,whilst old stars fade away and suck up the matter.
Is there silence, in the space? Do stars have a scent?
I want to celebrate the triumph of Creation. I want to represent the eternal light that all creates. I want to give a tribute to our desire of searching, knowing, exploring, overcoming fears, overcoming darkness.

All these themes populate a series of small mixed media paintings (size A4) I am actually working on, that speak about constellations and show the strong symbolism related to them.

This will be a limited series of works, dedicated to the Zodiac constellations, and no prints will be made.
The release of the 'Constellation' serie will be in the month of December.

Be sure to check my personal page on Facebook and my website to know more about the release of the paintings and to see some work in progress pictures I will be posting along the journey through galaxies!